Lately I have been thinking about things that I used to enjoy doing, but for one reason or another either don't do often enough anymore, or don't do at all. This blog entry will be the first of a series that I will post from time to time about such activities.
This line of thought was brought about by the fact that tomorrow, my wife and I are going to a taping of
The Daily Show with Jon Stewart
. The reason is actually simple. When I was younger a good deal of what you saw on TV originated in New York City - at least if you lived in North America. Then, as now, you could write for tickets to see a show - either broadcast live or a taping for later broadcast. With so many shows originating from here, getting tickets for most shows was guaranteed. Some, like The Tonight Show (with Johnny Carson) were difficult to get. In addition, NBC had a Brooklyn studio which was right around the corner from my house. (More about this later.) Today, it is difficult to get tickets for the few shows which still originate from NYC.
Once I was 16 years old - the minimum age to be admitted to a show - I started writing for tickets on a regular basis. For a while, I was seeing (mostly) tapings almost every week. I think at one point I saw every game show (What's My Line, I've Got a Secret, etc.) and Variety show (Perry Como, Kraft Music Hall, etc.) and many specials being taped in NYC. During a taping of The Match Game, my grandfather was picked to be the contestant from the studio audience, so we sat up front and had a lot of camera face-time. During weekly tapings of The Jimmy Dean Show I got to meet a young (then unknown) comedian by the name of George Carlin and a Washington DC puppeteer trying to make a national name for himself, Jim Henson. I even once got to sing (and if you had ever heard my voice you would know how bad that must have been) onstage along with other audience members.
Naturally we always waited for the celebrities to come out after the show and got autographs. Once, after a taping of What's My Line, a very young Liza Minelli spent time with all of us autograph seekers, keeping her limo driver waiting.
We often got shown on camera when they panned the audience at times during the show, but since these were the days before home video recorders, we never got to see ourselves - except on the studio monitors - unless we caught a re-run at an unknown later date.
Saturday Night Live - October 16, 1976
As I mentioned, NBC had a Brooklyn studio where we saw a number of shows. In 1976, Saturday Night Live was in its second year on the air, and it's NY studio was taken up getting ready for the presidential election returns of that year. For a few weeks, the show would be broadcast from the Brooklyn studio. Since most people will go to a studio in Manhattan but not travel into Brooklyn, we were able to walk up and get tickets for the week's dress rehearsal. After seeing the rehearsal, we came back and stood on the stand-by line for the live show, and were lucky enough to get in. At one point the camera pointed directly into my wife's face as the show was ready to go to commercial. However, at the last second, the cameraman was told he needed to focus on a man rather than a woman so the fellow behind her had his moment in the sun. That's my wife and me in the lower left hand corner of the screenshot. If you have the second season set of DVD's, watch for us during the episode hosted by Karen Black. Here is a
video clip
of that moment.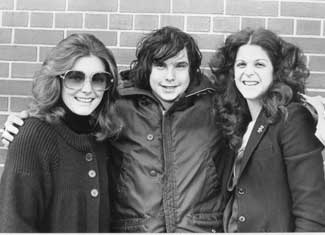 And, of course, the next week we went back, but NBC had decided to bus the audience from the Manhattan studio to Brooklyn so we didn't get in. We did meet the cast and host for the week, Steve Martin. Here is a picture I took of my brother with Jane Curtin and Gilda Radner.
Tomorrow we go to a taping of The Daily Show - who knows what new story we may come away with?
Is there something that you used to do that you don't anymore ... but would like to do?